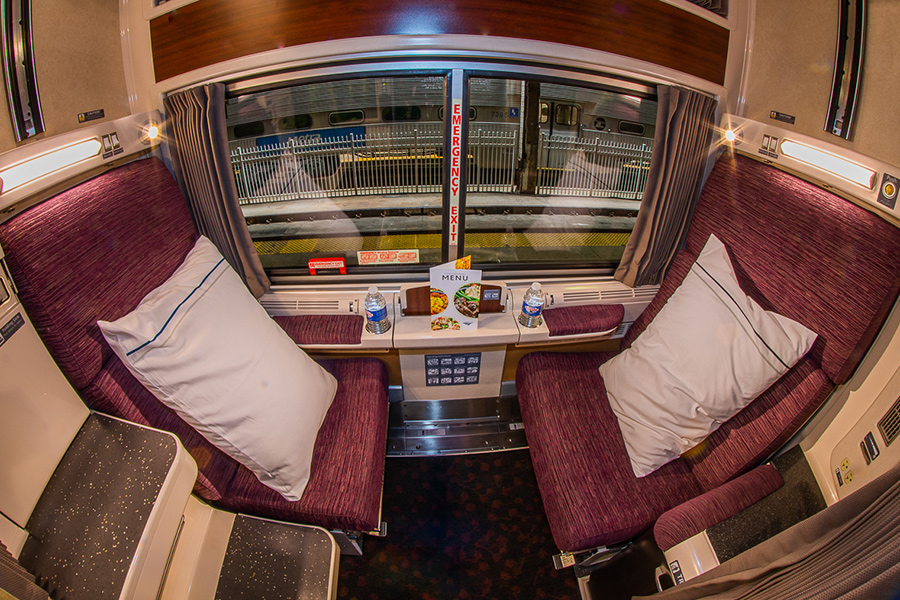 The Roomette. Those stairs lead to the upper bunk we can neither access, one of us not bendy enough, the other too fluffy.

We're dealing with an interesting scenario. Soon we are to launch our Amtrak trip to the Tampa FL area to visit George's brother, who is ill. Since we're traveling all that way and we haven't been to Florida for many years, after spending time with his brother, from there we've (read "I've" since all tech and travel plans are on me) planned a couple side trips to visit a friend and a cousin.
We'll drive about 4.5 hours from our home in Winona MN to spend the first night of this Old People Extravaganza in the Chicago suburb of Bartlett IL with a dear friend, get in a good gabfest. Wednesday she'll take us to the commuter station where we'll catch a train into Union Station, which is handy dandy since that's exactly where we'll board the Capital Limited for Leg One of our Amtrak Journey.
Trip Overview: Winona MN to Bartlett IL to Chicago Union station, to Train One to DC (roomette); to Train Two to Tampa area (roomette) three nights; to private car driving us to The Villages For three nights; after which The Villages friend drives to meet my cousin halfway to Oviedo (where cousin lives) to pass off said Old People for three nights; to departing Oviedo for home on the Amtrak out of Winter Park, twenty minutes from my cousins, to DC; and DC to Chicago; and Chicago to burbs and home. The only time we'll be manning or womaning (Grrr!) our transportation is driving back and forth from Winona to Bartlett. Nice. No rental cars in the midst of all that! Soon away we'll blast off on our long-and-carefully-charted trip!

Or will we? (Enter DRAMA from Stage Left-Field)
You see my husband has been ill since the end of September. He is guardedly better but definitely not good—by a long shot. Cause of his misery after three urgent care visits, 2 appointments, two IVs, 14 hours of being seen: Clueless. Toward the beginning, a two-week fever and super wonky blood work--fever now thankfully gone--they suspected something tick related (not Lyme) so a 10-day protocol of 200 mg/day of heavy duty antibiotics ensued. His "whatever" was/is producing lingering extreme fatigue and occasional light headedness. And he is unsteady on his feet.
Tick results came back negative--at least thus-far. Symptoms and wonky blood work continue but some blood work has "resolved," as they say, or is "trending in the right direction"—like a sloth on the "run." He's wiped out.
These issues have caused us to wonder: a) should we pull the plug on this trip?; b) should we fly instead?; c) do we care how much money we lose on any changes? and d) should we head out in spite of his issues because staying home doesn't get rid of them? Just cross our fingers and bloody GO FOR IT?
As for choice c] (do we care about money), of course. We're financially okay but we don't have money to burn. To decide to fly at this point in the game could lose us serious Amtrak money, should we just cancel, plus add the whackydoodle price we'd pay for purchasing plane tickets on last-minute flights.
Also, for those who say, OH MY WHY would you subject a less-than-perky man to two nights on a train when he could fly and be there in a little over three hours?! BWA-HAHAHA! Like actual time in the sky has anything to do with how many hours flying takes! First we have 2.5 hours to get to MSP, and the best rates leave at 6 a.m. so that means a hotel the night before. Then security and making it to the gate, hoping for no gate changes, and hoping it's on time and prying the ol' bod into a seat fit for an American Girl Doll and perhaps languishing on the tarmac for hours and then ZIPPITY ZAP in three hours in the air we arrive in Tampa to sit on the Tarmac and … You know how it can go.
Enter Winter Weather from stage right and ...

The last time we flew, the woman sitting next to me hacked her snot-laden self to pieces while never once covering her mouth. Not once. Also fragile George would be stuck sitting next to me (How do you feel? Are you okay? Do you need water?) after we pay extra money for the privilege of choosing that marital bliss opportunity. Whereas on the train, we have a roomette (good LORD, more cozy togetherness) but at least we can close our curtain-that-serves-as-a-door and keep all snot-laden folks at bay. For two days, over two trains.
But, on the train we'd get all those yum meals in a dining car whereas on the plane if we're lucky we'd get two peanuts in a package we can't tear open, or perhaps nothing. In either case we'd get to sleep sitting up because neither of us can make it into the top bunk in the train's roomette. Trust me: we sized up that opportunity when we took the Amtrak to Albuquerque last April. Nonetheless, it was a trip we really enjoyed right up until on the way home when our sleeper car was DIRECTLY behind the engine, its train whistle blowing all night, drilling BLARING siren-ous sounds into the dark recesses of our brains. But still, compared to driving or flying, we appreciated the scenery and the lull of the clickety-clack and the chance to meet new folks during meals.
What have the docs thus far said about him traveling? "If he feels up to it, he can go."
What, exactly, is "feeling up to it?" That he can manage to get onto the train with the help of a wheelchair? That he can make it to the bathroom without falling over during a train shift? I mean he can have meals brought to the roomette and … But there's the on-and-the-off of the commuter train, and the Leg One to DC train, and the same on Leg two and reverse all of that and … Does he have to feel GOOD to "feel LIKE" it?
What should we do? His brother is combating the Big C and the outlook is somewhere between short and long and they are each other's only siblings who haven't seen each other for two years and …. Anyone who asks how George is, and we tell them the truth-- and the options in front of us-- finds it necessary to weigh in with STRONG opinions about "Of course go!" or "Are you nuts to subject him to that?" to "MY GOODNESS FLY!" to…
What to do. What do DO?!

TO BE CONTINUED NEXT WEEK…(we already know some of this, but not all of it yet)